We are proud to present our first member, Andrea Biscaro, with his outstanding work "Lockdown Love". The novel is written in Italian language and will be published in Italian and German languages in 2023. We are developing market entry strategies for the publication of the novel with our partner companies Think Up International. To this end, we are looking for distribution partners for the release of the work in all German-speaking countries. All steps of our branding strategies will be published on our news page.
"Lockdown Love" is a love story that takes place during the early days of the Covid-19 pandemic – the first lockdown, March 2020.
The novel aims to show how intense feelings can arise even in times of death and misery. Love, indeed, precisely because of Covid's forced stop, was able to have time to grow and mature. This is what the book is trying to communicate: we all need time. If only to understand who we are, what we want and, above all, who we want. The protagonists of the novel (Glenda and Antonio) will get to know each other and love each other thanks to the time that the lockdown has given them.
"Lockdown Love" is about love, the pure and absolute feeling that binds two people physically located far apart. To love is to understand-listen to-become the other. The different. That which is not us. Who, in this narcissistic and egocentric society, has the desire to undress oneself, to enter into the I-Other? Does anyone, today, really want to love and be loved? Definitely yes. But we are few. Because it takes time. A lot of time. In fact, all the time. Loving is dedication, it is listening, it is an eye and an ear given to the other. It is a shared heart.
"Lockdown Love" is a true story.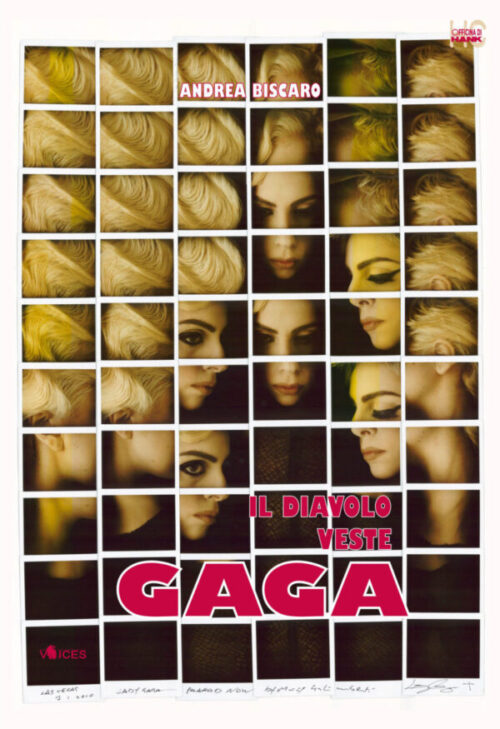 Andrea Biscaro's book, to be released in December 2021 in Italy by the publishing house OFFICINA DI HANK-CHINASKI is the first real literary and biographical work about Lady Gaga. Think Up Editions will edit and publish the German and English language Editions, as well as create connections and distribution possibilities for the work in the rest of the world.
Lady Gaga is Art in every manifestation.
This book is not just a biography, but an attempt to grasp, dismember and analyse the body of work of a great artist, the world's last great diva, whose songs are but the tip of the iceberg. Gaga crosses music, fashion, cinema, advertising, politics, overturning the concept of PopArt. No longer art at the service of mass culture, but mass culture at the service of art: ArtPop, therefore. Every step, every appearance, every album by Lady Gaga is a cultural and costume revolution. Scandalous, excessive, "Mother Monster" has become a symbol of diversity. Elusive and iconic, Gaga plays with her multiple personalities, displaying the many faces of herbare heart. An angel and a demon, she can be the clean-cut girl from "A Star Is Born" and at the same time the diabolical bloodthirsty Countess from "American Horror Story".
A multifaceted and chameleon-like book, just like the subject being narrated.
"My life in 18 kisses" is the third book, as yet unpublished, by Andrea Biscaro, which Think Up Editions embraces. The book will be accompanied by 18 original illustrations.
Why tell your life in kisses?
Perhaps because the kiss is a primordial form of knowledge. The purest, most authentic, wild, saving form of knowledge. A perfect alphabet, uncorrupted, sublime, made of lips, silences, sighs, moods, rooms. Exchange fluids. Exchange skin. Exchange the stars. Exchange the soul. That, after all, is the essence of a kiss. The most honest way we human beings communicate. There's never any deception in a kiss. Never falsehood. There is no double meaning. We are ourselves. Unfiltered. We ourselves, who sink into the other. And become the other. If only for a moment. I'll tell my kisses. Every kiss, a girl. Every kiss, a life. Mine. Hers. Every kiss, a tour. Physical and soul. Yes, because the kiss is an interminable journey from stillness. Each kiss, an age. The passing years will not follow a temporal chronology. Only that of the soul. I will jump from one kiss to the next. From one year to another. From one decade to another. From one innocence to another. From one woman to another, and vice versa. You will see that kissing is ageless. One is always a teenager in the act of kissing. Every kiss is a first time. Because it's always the first time, even with the same woman.
Every kiss is a beginning.
It is new heaven that passes through us.
A book suspended between poetry, prose, and illustrated story.
We select and publish unpublished works by deserving authors.
We provide services to talented authors to publish their works on international platforms.
We're looking for creatives who can work in a team.
When we work with authors, we protect these points:
– We protect the author's work
– We defend the rights of the author
– We make sure that the author is valued to the fullest and has the best opportunities for sales
We support and cooperate with extraordinary young filmmakers to produce feature films and documentaries.
We produce works from published books or original screenplays.
We intend to touch the heart of the viewer with great stories.
Selected works may be funded and produced by a variety of organisations in European countries.
We are looking for artists who have something unique to say.
We are particularly interested in introducing novice collectors to the art world and pioneering artists working off the beaten track.
We provide services that promote accessibility by helping artists connect with galleries. We specifically target art dealers.
We work with various designers and artists and connect them with the most respectful curators and art dealers around the world, including new industrial clients.